SEO for the church
get on found on the world wide web
SEO for the Church in 2022
SEO for the Church allows people to find you. Your website up is only the beginning. A website without SEO is your beautiful church sign is at the end of a dead-end, where there is no through traffic. No one sees it, and no one will be affected by your website. This time in our history is the most competitive for people's attention ever.
People WILL NOT go the extra mile to find you,
you have to be easy to find
Today in 2022, There is too much competition in the crucible of ideas to be passive.
Your website, without SEO, is as useful as an old sign at the end of a dead-end street.
Don't be that website! Get SEO for the church!
SEO is the Child of Search.
When a person searches they are doing one of three types of searches. (relevant to churches)
Do = Transactional Know = Informational Go = Navigational
Each one of these is valid for a church website. Do – They want to go to church, they want to get baptized, etc. Know – What kind of churches near me, the best church near me, what is baptism. Go– Go to my church website (they search instead of bookmarking the site). What time is the service at the Church of Christ in Malverne?
This is all about Search Intent. Do your math their intent. Some people are looking how to get you your church. Others have a plan to attend or look for something. Still, others want to know about something, and they have no idea you exist, but you have the answer.
STEP 1: Start with the Basics [The Foundation]
You first must have access to your webpage and Google Search Console. Click here to start with Google Search Console. It will ask for your sitemap (a file on your website that lists all your page). Most websites will be www.example.com/sitemap.xml, Yoast, or Rank Math generated their own.
The SEO Search Engine Optimization work helps search engines find you and match your website to people who are looking for you. You can benefit from the search engine's desire to give the "best" content to the right people to keep them coming back.
Solid SEO makes you trustworthy in Search Engine eyes. Solid SEO draws visitors to you, not someone else.
STEP 2: Play by the Rules [ No Shortcuts ]
There are many people on the internet promising great SEO, with backlinks, upgrades, etc. Hidden text or deceptive Keywords that don't represent you but are popular.
Avoid these shortcuts. Google knows about them and drops your ranking when it finds them.
Google wants to understand your content and give it to the right person, the right search. Work hard to write everything with your audience in mind.
STEP 3: How it Works, Robot.txt, Crawlers [Artificial Intelligence]
Googlebot / Bingbot: How major search engines like Google and Bing crawl the web; their "crawlers" or "spiders."
This video is one of the best at explaining how Googlebot or another web "crawlers" or "bots" work. They read your webpage and analyze your content.
Google Bot, Myth and truth
STEP 4: The Big Secret [Landing Pages]
Don't blend in. Research who you want to reach. Make the website distinct.
It is all about content. Have useful, distinct answers to searches. Look at other churches around you. How are they differentiating themselves?
You want to make a straight line. Your Content>Your Keywords>Your audience.
STEP 5: Keywords and Research [What works for you]
Keyword research is an ongoing process. The internet is fluid, and it is necessary to keep up to date, find what works and what does not work, and adjust accordingly.
Solid SEO makes you trustworthy in Search Engine eyes. Solid SEO draws visitors to you, not someone else.
STEP 6: Links [Show Google who you are]
Linking is important and helps Search Engines understand you. They do this by seeing how other pages are interrelated. Think about what questions a person might have while reading your web page, and place a link to that page, either in the text or a button. At the bottom of this page, we internally link two other pages on this website we think are relevant to this content.
You can also link to other web pages. For example, at the bottom of this page, we link to the denomination webpage with a blue button on the bottom. You can also do this with a text link to the ICCEC website.
STEP 7: Resources [Don't go it alone]
Here are just some of the tools to help you dig a little deeper.
Dig Deep, SEO is not a Secret Science
STEP 8: Have A Digital Strategy [Have a Plan]
The MOST IMPORTANT Piece of a Successful Church Marketing Strategy is a Successful product. You don't start with marketing if your product is not awesome. You do have a product and currency. While you are not selling a product for cash, your marketing service(s) are worth their time. Are your services(s) worth the time?
Before you advertise, you need TWO things
Ensure your Sunday Service or your Church services (ministries) are Awesome.
Determine who you are trying to reach and what they are searching for.
How Churches Plan Digitally
STEP 9: Landing Pages [A Key part of any Strategy]
A Landing Page is a webpage on your site that covers a single narrow subject, with a specific goal and a specific audience in mind. For example, if you run a specific ministry like Grief Share, you create a page that only talks about this ministry shows photos of this ministry, and has an online form to sign up or ask a question.
You can create a Grief Share event or post on Facebook and Instagram, and when they click that post, it goes right to the Grief Share landing page. A specific audience will find you and the specific need filled by you that will answer their questions. Landing Pages help define who you are by highlighting what makes you unique. See more help here
STEP 10: Be Mobile-Friendly [Meet the People where they are at]
What does mobile-friendly mean? Take a look at your Google Search Console. Click "Performance" then the "Devices" tab, and see which devices are used the most. You can see that the ICCEC.org website is accessed by phones four times more often than on desktops.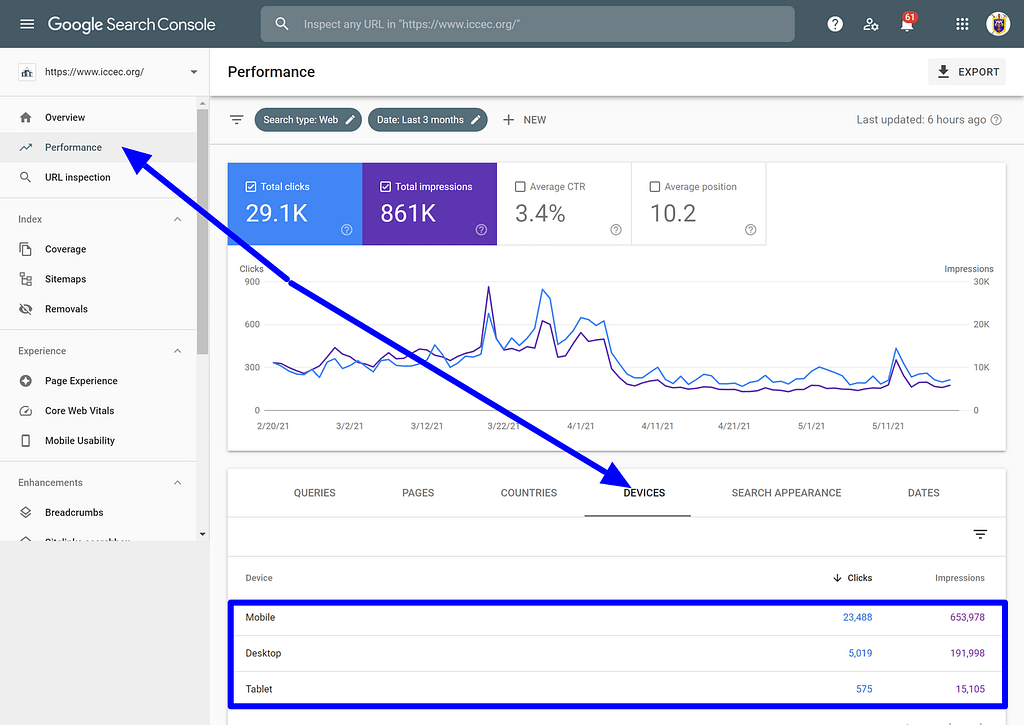 It more than fits, it works great