Google Business for Church
Once completed, you will wonder how you got along without it.
Google Business for Church
Free, Easy, and Powerful
Google My Business is a great benefit that Google Provides to promote local business and any other entity that has a place of business, or in this case, a place of Worship. Google My Business is a FREE tool that allows you to promote your Church and website.  It helps people find you when they do a Google Search or look for you for "nearby Church" on Google maps.  When you set up your  Google My Business account, you get free 'insights' meaning you see who is looking at your website, is getting directions to your church, and from where and they can see your photos and updates. They can see your church service times, directions, COVID rules, etc.  
Local SEO is "Nearest me…", "best local …", "Nearby…" Google Business Profile (Formerly Google My Business") is the best place to start.
What is it?
Google wants to make sure people find what they are looking for.   It also wants to recommend the best service in your area.  So, Google created My Business, and they search local areas and find any and all businesses, churches, temples, stores, etc., make an educated guess about them, and create a profile for them.  They use this to populate Google Maps locations and to provide search results.  For example, if someone searches for "Nearby Churches," Google will provide results based on many factors. One of these is a verified church My Business profile with updated hours, photos, and announcements. 
How it can help!
First, Google My Business is Free, Free, Free.  Once you have access, it can provide you:
A free professional website
Free local advertising
Free Insights into who is looking at you
Easy ways to update people
Give you credibility with Google search
Help people find you
Connect with your local community
Connect with people
Help you get Found
Make you stand out in the digital community
Take Ownership
Google will auto-generate a Business Profile for your church from what information it has.  You need to claim the Business to be allowed to edit it.  This is a simple process.  (1) You must have a Google Email to start (2) To begin, go to Google Maps and type in the name of your church (3) Find your church on Google Maps and click the icon to open the profile (4) Look for "Own this Business? Claim it now", click on that and in a few days it will be yours.   The video below has other alternative ways to Claim this Business Profile. 
BE CAREFUL: Use what Google has already made, don't create a new Business Profile that will create duplicates and undo much of what you will need to accomplish. If you need to create a new Google Business Profile, start here.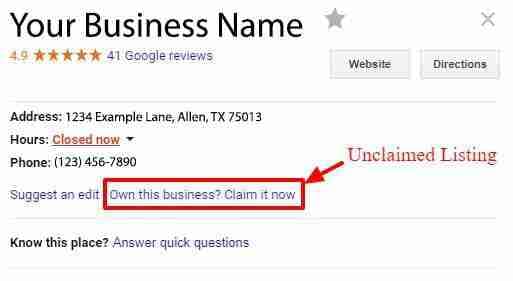 Claim Your Business Listing
Step 2: Update Basic Information
Get the Foundation Set
Once you are in your profile, on the left-hand menu, click on "Info."
You want, at this time, to update your business hours. You do not want to show when the building is open for a church, but instead when services are held.
TIP: Your address does not have to be your mailing address!
Is your building hard to find? End of the long road?
Your mailbox is not the best place for visitors to go to?
A nice trick is that the address you enter is the one that will be used by Google Maps and WAZE.   Go to Google Maps, click on the map where you want people to drive to, and use that address on Google My Business.  Watch the video to see it being done.
For example, you may share a building; you are at the end of a long street, you may be at a corner of two streets.  Enter the address that brings people to your front door, not your mailbox. 
How?  Go the Google Maps, move the location icon to the place you want visitors to come to, and use that address.  (The post office doesn't care what your Google My Business Address is) 
What is the best Address for you?
PHOTOS show how you are
Photos are very important. They give people an immediate understanding of what you look like and tell them if they will be welcome.  Update your photos often, focus them on communicating with people not in your church
Logo: Help your customers recognize your business on Google.
Cover photo: Set a cover photo at the top of your profile that best represents your business.
Business photos: Add different photos to highlight features of your business to attract and inform customers.
POSTS keep posting to keep your profile in the lead
Photos are very important. Update your photos often, and focus them on communicating with people not in your church
Logo: Help your customers recognize your business on Google.
Cover photo: Set a cover photo at the top of your profile that best represents your business.
Business photos: Add different photos to highlight features of your business to attract and inform customers.
Here is some good guidance on choosing photos
Keep Info Updated monthly
Add New photos monthly
Create posts 2-4 times a month
Take a look at this video for Advanced tips (powerful tips)
Sample church Post for Google Business Profile
Posts and More Posts
Sample Post Google Business Profile for a church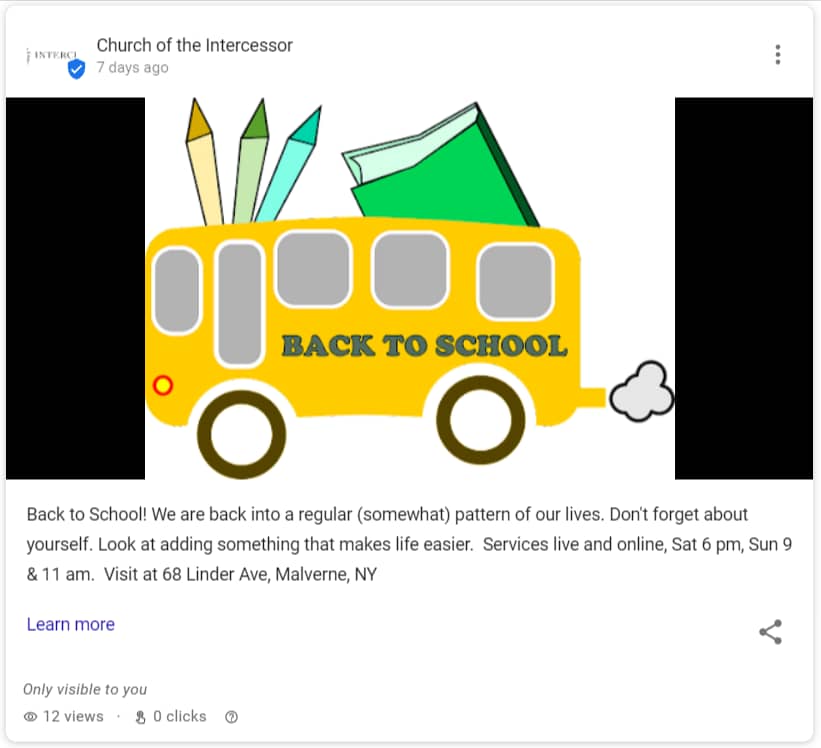 Step 5: Advanced Optimization
Advance Your Profile, Reach the lost
Evangelism 201: Keep Talking to Strangers.  You DO HAVE A PRODUCT, a message.  Don't let the world use this tool, and keep the church out.
Now that the Foundation is right and strong, time to reach out. In a surprisingly short amount of time, search engines will see that your profile is active and being updated. You will see more and more visits, get more calls, clicks, and interest, and in the end, visitors.
About Insights
Google Business Profile Insights is a tool that shows you how your listing is performing. It shows who, what and where, and when of people who saw, viewed, and clicked your ads. It will also show you how Google is showing your profile on maps.
"Insights give you an inside look at how people find your business listing on the web. Because many customers find businesses on Google Search and Maps, Insights focuses on how customers use Search and Maps to find your listing, and what they do once they find it. " -Google.
Learn, Watch, Adapt and Grow
Set your listing on a firm foundation
There are no secrets; Google will tell you how you are doing.
Google will post now and then tips about how to improve your Google My Business profile.  It will show you what is working (posts, photos, events, etc.) and show you what got the most clicks.  This informs you what type of posts and photos you need to add.   The  'secret' is to fill in all the blanks, products, events, posts, events, etc. 
Let Google build your first website for free
With Google My Business, you can create a free mobile-optimized website to represent your business.
Google will automatically use the information and photos from your Business Profile on Google to create a site that you can customize with themes, photos, and text. Your free site will automatically update whenever you change your business information or post new photos. Your website will also be optimized for display on desktop, laptop, and mobile devices.
A free, Simple, Powerful Website
Step 9: Google 360 Street View
Add A professional 360 view to your listing.
When you look at the photos sections of Google My Business, you will see a "360 View View" tab.  This is for those photos that you can navigate through.  Getting them on your listing is easy, and here are a few steps.  First, on your phone, down the Google Street View App or for iPhone, use the google login that you use on Google My Business.
Follow this video, make a few videos, and choose the one you want to use. Google will know where the photo was taken from, so matching it to your GMB listing is easy. Once you have the 360 you want, click publish, look for your profile, and upload it. Google will put it in the right place.
A free, Simple, Powerful Website
Step 10: A Product and Events
Add products and event
Even if you don't sell anything, you can have products.   Products can be services you offer like grief counseling, a page that tells stories about yourself, or otherwise, a service you provide or even an e-book you have made.
Events are those that you want to invite people to. A Wednesday night service, a webinar, picnic, etc. Take a look at the advantage of both. Events can be Christmas Eve services; next Sunday we will talk about…., We have a Guest Speaker….
A free, Simple, Powerful Website