Create a Church Landing Page
Create a Church Landing Page
What is a Landing Page? A landing page is your website's web page dedicated to a very particular topic—for example, a ministry like Grief Share, Financial coaching.
You want to be an answer to someone who Googles "Help with loss of a parent," "help grieving," "Help to get out of debt," and "Create a Christian Budget."
These searches lead people to your web page, and the web page offers them help. You must provide more than an explanation; you must provide a solution, sign up, contact us for the next session, etc.
The funnel image here shows how all your work gets people to plugin to you. For example, You provide answers to Parenting Support, Grief, Financial counseling, Addiction support, etc. You use SEO tools to get yourself out and into the search world. The search word then rewards you by directing people to your landing pages, then some transition to your main webpage, as the person considers getting to know you.
A Landing Page for all of us
A Landing Page Funnel searches for you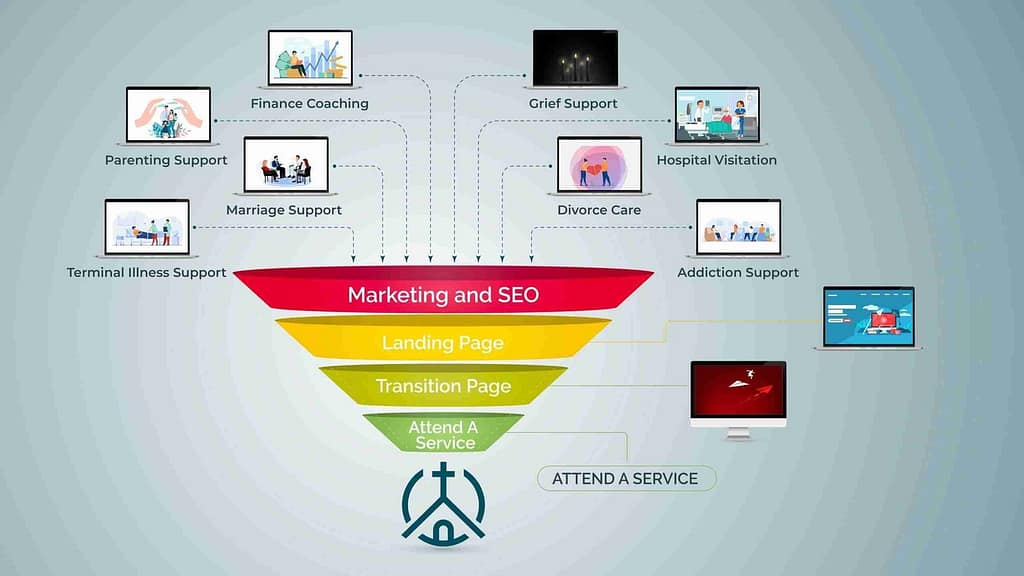 Why have a Landing Page?
Your Home Page, and most of your website, is a Sign.
You hope people come across this (hope is not a plan)
Home Page (Your Sign)
Your Home Page is your Gate, from there they can see what is going on and can get anywhere.
You want to draw traffic deeper into your website through many options. Your Home must provide those options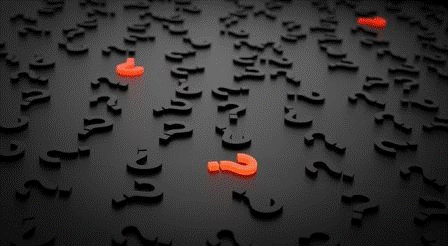 Landing Page(Your draw)
The Landing page answers one specific question. The Content is very specific.
Keep the person on that page and guide them to action (sign-up, click, submit a form, etc.)
Answer one Question fully with an action at the end.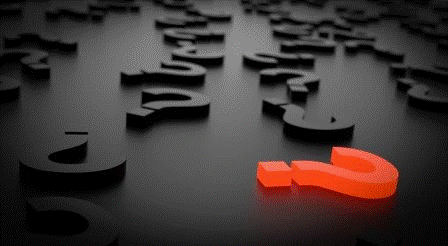 Create a Church Landing Page | How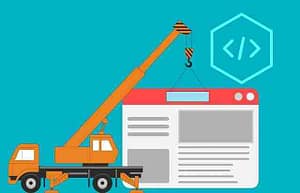 But first, some terms: Conversion Rate: Businesses use landing pages to convert a visitor to a sale, lead or contact. So, when you are Googling landing pages, you will hear the term "Conversion rate," the percentage of visitors that turns into sales, leads, or contacts.
CTA: Call to Action. A button or form on the webpage that captures the visitor's information so that you can connect with them.
Engagement: When a person on your webpage decides to interact with your page by liking, clicking, watching, or scrolling down.
Six Steps to Plan a Church Landing Page
Step One: Ensure you and everyone else understand that the landing page has a single focus and purpose.
Step Two: Choose the topic for your landing page. Start with something unique to you or your area. Think about what someone will enter in a search bar. People are not searching for "Saint Bob Church in my town," they are searching with questions. They may search for "churches in my town," and that traffic should go to your home page.
Step Three: Create a web page to answer one question you have the answer to. Christ is the answer, and you need to find what questions your neighbors are asking.
Step Four: Once you answer the questions, provide an action to help. Direction to the church won't work; they need an answer to the question they asked. Once they have read and watched your page, give them help. Give them something pertinent to download. Or let them ask a question through a form to sign up for more updates on that subject. This is called engagement.
Step Five: Seeing is believing. This is a simple Landing Page for Intercessor Church in Malverne. Intercessor Church Grief Share
Step Six: Market your Landing Page. You can do this for free on your Facebook feed or buy some advertising on Facebook and Instagram if you are able. This Grief Share page was so successful that they filled up the class in a week.
What is a Church Landing Page
Promote a Landing Page
How to Get Traffic
Step #1 Your Opening Title or Banner
needs to say
"You are in the right place."
Step #2 "BLUF" The Bottom Line Up Front
Here are great ideas and answers to your questions. Don't make people look for the answer. Make it really easy. For example, look at my Awesome video to the right. Or continue if you are ready to see all the answers and how we can help.
State Clearly: Briefly say why this is important or Why do it? Bring up the answer to questions most people have. Answer How they can do it, participate in it, and sign up. What makes you or this page or answer unique.
Step #2 "BLUF" Look at my Awesome video
Step #3 "Connect"
What do you want the visitor to do? On this page, we want people to learn the importance of Landing Pages and help them make themselves found.
If you want people to sign up, you will need a form for them to do that. Make the form unique, so you know when you get the entry, you know what page it comes from. Don't you a generic "Contact Us" form. If there is a purchase or download involved, have that right here on the landing page.
And don't make someone click a link to another page if you can avoid it.
Step #4 "Market"
Market your page in two ways: Search Engine Optimization (SEO) and Social Media or other ads.
SEO: This webpage is designed to be found on Google Search if you type "Create a Church Landing Page," plus a few other tools. People who search for that will find this page on the first page of their search. That doesn't cost anything.
Marketing: You place an image (similar or identical to the Landing Page) on a Facebook or Instagram feed with a link to your landing page. You can use Facebook boost (their ads system) to promote your page.
Some Tips
Keep your Landing pages simple and effective. Complex, fancy, animate pages hurt, not help.
Most Landing Pages on the web "sell" things, ignore that, you have a better message, and it is free.
No bait and switch. If you offer "ABC," don't then try to get people to do anything else.
If you ask for contact info, use it for what you said you would don't add them to your newsletter, etc.
Some Terms
Conversion: While Google or looking on YouTube, you will often hear this term. It means tracking what people do on your page (what they click, scroll, play, etc.)
Bounce rate: The rate people come to your page and bounce off without interfacing with it.
Google Analytics is a free tool that helps you see what people are doing, or not doing on your landing page and how they go there. (More on this soon)