Yes, there are 5 Ways to Get Found. 
So, you did it. You have a website. It looks good, and you are proud of it. You have Facebook and Instagram accounts, and you signed up with Google My Business, Yelp, and LinkedIn. Yet no one new has found you. 
Do not worry. You purchased the car and have a driver's license. Now, you need to learn to drive on the internet. We will show you how.
An organic search is the best way to get found. When you search for a plumber, you Google "plumber" and see what shows up, then you compare prices and decide, and that is an organic search.
To get to the top of that search page, all you need to do is show the searcher you are an excellent answer for that search. You can do this for free.
Here, we will show you the simple tasks to get you out of the garage and onto the Information superhighway.
Is your message getting to people who are looking, or are you lost in the white noise of the internet? 
Here are two words of encouragement.
1) Search Engines rank Webpages, not websites (so you can start one page at a time, it is manageable).
2) 90.63%: The percentage of pages that get no organic search traffic from Google. (That is good news, the competition is low.)
1) Get your Website Found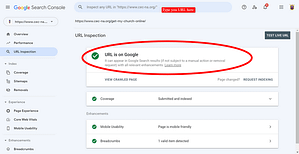 First let's make sure no errors are stopping Google from finding you.  The first stop is Google Search Console.   It will tell you if you have errors.  To get right to it, enter the URL of the webpage you are concerned about in URL Inspection.
Here are some terms to help you.  Crawl:  Google and other search engines "crawl" the website and find and add your webpage.  Index:  After a search engine crawls your page, they index it to be used in future searches. Sitemap:  This is a simple file that your website generates to help a search engine understand your website; in most cases, search engines find this without your help. 
Still working on getting your website set up?  Click Here to Set up your website
New Websites take a few weeks to get traction. In the meantime, it is good to check a few things, remember Google ranks pages, not sites, work your issues page by page.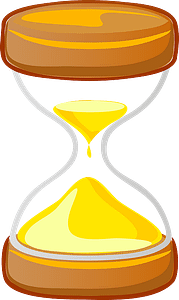 Content is King.  Your keywords tell the world what is unique about your content.   Keep working on your content to be unique, with better matching keywords.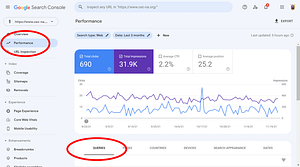 Let's assume your company name is ACME Plumbing and the only term that is bringing people to your site is "ACME," then only people who know you find you.  Instead, you want search terms like "I need a plumber," "fix leaking faucet," "fast unclog drain."  Where do you find these terms?  Google Search Console, Click Performance and look at Queries at the bottom.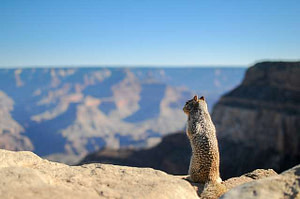 It is best if you are not alone.  Link to another account like yours, and have other websites link back to you. There are a couple of types of links: 
An internal link
is a hyperlink between two pages on the same website.
A Backlink
is an inbound link from one website to a page on another website. Why is this important?  It helps Google understand your page.  When you link to other pages on your website, the search engine learns what pages are related. For external links and backlinks: if you put in a link to another site, it helps the search engine understand your content better.  If another site links back to you, it increases your authority that others on the internet know you and you know them.
What is next? Go back to Step One.
Webpages are living documents, and what they feed on is changes.  Update your content often, check for errors often, update links often.
Never get stuck on one idea if it doesn't work. 
Google created a business profile for you.  You can find it by searching for your church name.  You can see an example on the right.  Google uses this Business Profile to get information about your church or non-profit.  
Here is the secret.  A search works to get the best result.  If your Google Business Profile is updated weekly, it has reviews, recent posts of photos, then you appear to be an active profile.  When Google shows your profile, and people start clicking on it, then Google realizes this is good content and it will show your profile more often.   
Setup Google Search Console
Use Google Search Console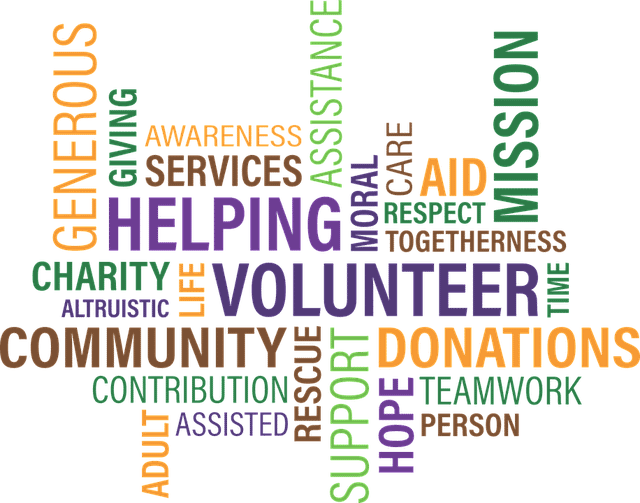 First, #1, Most Important, Number #1:  Who are you posting to, who is your audience?  If the audience is your current church members, just post service times and feel-good words.  If you want to Get Found by a new audience, your posts need to be shared. 
Make Posts that are easy to share. There are types of posts that a large group responds to, some of these are great; 
Images
, Solid
Questions
,
 Use Hashtags
, think M
obile (
how will it look on a phone), Give them a
Reason to Follow
you, (next week we will talk about…). 
Have a Plan (See the video) 
Upload Content consistently, regularly.  Weekly is best. Make all the content plan a month ahead.  Only post what you know about.  Don't engage in culture wars. 
Understanding the culture of the platform, Facebook, Instagram, LinkedIn are all different. 
You need to find content related to your niche.  Your audience needs to be narrow; get specific. 
Build an audience of engaged people and actually listen to them!  What works, repeat, what doesn't work, end. 
This is the best primer for learning how to reach people on Social Media (regardless of platform). 
5) Rating / Ranking services
Yelp, Church finder, and anyplace that serves rantings and reviews help you.  Google tries to answer the questions asked with the best information it has.  
If you search "Best Churches near me…" how does Google calculate that?  It looks for reviews, the number of platforms you are on, how connected you are, audience, etc.  
Yelp and all these other platforms already have profiles about you; you need to take control of them.  Update them, make them accurate.  Don't fear a bad review. They are usually written in an angry tone, and people know kooks when they see them. 
Ranking Services: Everything is Connected